0.0.7.3
Monster Spawner 
now we can select a platform in the world editor that could be a monster spawner, meaning that every set amount of time, it will check if it reached the summoning cap, if it didn't, it will spawn a new monster!


Here you can see how they are being spawned while I kill one of them


And here is the platform reaching max capacity. (edits were made to GIF to minimize weight of GIF)
The monster spawners are an essential part of the game, and in the future we will make them more intelligent as of when and where to spawn monster, for now it just summons them within the platform's bounds.
New Animation
The character has a new walk animation, it is a rough draft so it isn't "clean" completely (I took it from the artist before it was done.. couldn't wait…) I think it looks much better, any opinions out there?


Here is the character walking right and left
Conclusion
This was the end of 0.0.7.X and we finally hit 0.0.8.X with our new Sloped platforms (diagonal platforms) which even until now are still being updated but we reached a sufficient stage to release.
We faced a lot of bugs, such as the "spazzing" where the character would freak out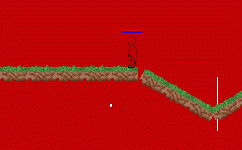 or the gravity bug, where you would fall down in between platfrom segments (forgot to take a GIF of it before fixing…)
or the weird gravity ignoring case where the character would climb an invisible stair case if teleported to a specific location between the platform segments…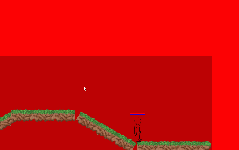 eventually it all worked out well though, The GIFs you see now are without any background because it is easier to see mistakes with a solid background. After repair the Background was brought back to the game.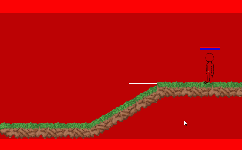 This Required a lot of math, which is the main reason why this took so long, we will upload some of our math next update with pics of my math skills in action!
Whats next?
Now all we have to do is implement diagonal Platforms in our world editor and be able to save platform segments with out world file.